Tiifu
Oct 22, 2022 1:25:40 GMT
Post by Deleted on Oct 22, 2022 1:25:40 GMT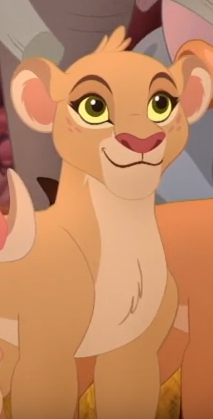 Tiifu
Nicknames:
N/A
Age:
Early twenties
Gender:
Female
Species:
Lion
Homeland:
Pridelands
Allegiance or Pride:
Pridelanders
Custom title:
Huntress/Healer
GENERAL INFOPersonality:
Tiifu has grown a fair bit since her time as an adolescent. Compared to her younger years, Tiifu has grown to become a rather calm, level-headed young lioness, having an approachable, soothing air about her. Through many trials and errors, as well as facing some fears, she has learned to take a step back and take a deep breath, to take in a situation and attempt to make sense of her surroundings and environment. She has a gentle, kind nature and fairly decent bedside manner, being nurturing and having a concerned, worried side that has driven her to the path of a healer. In general, she has a soft, somewhat delicate personality, caring and helping others having become her main priority over the years.
But, that isn't to say every aspect of her younger self is gone. Tiifu still very much has a vain side, if less so than it once was, still caring about looking her best and her appearance and avoiding having her pelt dirty for long periods of time. She still can be slightly lazy, often sun bathing and concerning herself with beauty treatments, or shirking her duties now and again to relax. But, this doesn't stop her from still having the occasional sharp tongue and being extremely fierce and loyal when it counts most. Tiifu greatly respects the older members of her Pride and the royal family, and carries herself with grace and poise that would fool others into thinking she herself is royalty when this is most certainly not the case. But, she does take formalities and etiquette quite seriously, being more along the lines of a human socialite in her mannerisms.
Likes:
+Looking her best
+Advising and healing others
+Sunbathing
+Hunting
+Her friends
Dislikes:
+Getting excessively dirty
+Being called vain
+Dark, enclosed spaces (not particularly fearful anymore, but still dislikes them)
+Being viewed as weak
+Bullies
PERSONAL INFOFamily:
Unknown
Mate:
None, but open!
History:
Tiifu is one of those part of the generation that was born long after the reign of Scar, born to an unknown lion pair and raised her whole life in the Pridelands. She was born in the same generation as Zuri and Kiara, and is older than those like Kion and his friends but has otherwise become quite close to many born during those prosperous times.
From a young age, Tiifu was always one of to be regarded as a delicate flower, growing up in a way that made her seem spoiled, lazy, and incredibly vain. Nevertheless, she became close friends with Princess Kiara and Zuri when they were still not quite old enough to leave Priderock without supervision of their parents. But, she spent much of this time playing with her friends, being a little rambunctious and something of a nuisance when she pressed to spend time with her parents as often as she could, especially her mother. The three friends were practically inseparable when younger even when they could finally ventured further from the dens, often sticking close to the base of Pride Rock. But, as they got older, things began to change.
First, the Outlanders were at one point a constant threat for the Pridelands, still maintaining a deep loyalty to the late Scar and often coming into conflict with those who supported Simba. Tiifu herself had never seen the Outlanders face-to-face at first, but heard all the trouble they tended to cause from the older lionesses, and the eventual birth of the prince, Kion, who would one day become the next leader of the legendary Lion Guard when the cubs got older. But as it goes, Tiifu often found herself in the adventures of the royal siblings, being dragged into trouble, royal duties, and the like, even the occasional encounter with her deepest fears such as the dark and being underground, leaving her sometimes panicked and frozen. These adventures became more frequent when the Lion Guard was formed, Tiifu finding herself involved in trouble from dingos, the hyenas, and other Outlanders or territorial skirmishes from the other groups and herds. Not that this deterred the young lioness who still stuck close to Kiara, at one point even being a temporary royal advisor when she was queen for a short while.
But, as time has passed, Tiifu has been faced with the reality that life has its downsides, finding herself more and more faced with having to grow up and inherit the troubles of her parents. More than a few times Tiifu became involved with the troubles by the Outlanders, having to learn to defend herself as well as hunt much to her initial displeasure, finding herself struggling to grow into these roles at first. But, a time came when Kion and his Lion Guard had to leave when she was an adolescent, bidding the young prince farewell much to her sadness since she did still consider Kion and his group close friends, watching them leave for sometime. But in their absence, Tiifu herself strove to improve herself, trying to find where her path truly lied among the pride.
Tiifu began training harder, pushing herself to overcome her fears and doubts, eventually proving herself to be an adept hunter while finding a new love for healing. In fact, Tiifu was also there to witness not only Kiara's first solo hunt but the arrival of Kovu, at the time an outsider and regarded with suspicion if which Tiifu was among those who did not trust the self-proclaimed heir of Scar. Something about the young lion rubbed Tiifu the wrong way, but for her friend's sake she tried to support Kiara's instincts, trying to go about her daily hunting and taking care of sick and injured animals and Pridemates. Though she never stopped keeping an eye on Kovu, skeptical he was truly there to change his ways and cared for Kiara at all. This lessened somewhat as Kovu graduated proved himself to be trustworthy and seemed to show signs of change, though never quite going away. When Simba was ambushed by the Outlanders and Kovu was implicated for being part of the plot, Tiifu angrily protested to his staying, briefly going against Kiara's judgement that Kovu was nothing like Scar or his mother and was there to prevent her friend from trying to help him when Simba passed the judgment of exile.
However, when Kiara briefly turned up missing after running away following the forced exile of Kovu, she became deeply worried for her best friend, joining several search parties to find the young princess. Feeling ashamed for not doing more, Tiifu was heartbroken, thinking her and Zuri had lost their best friend forever. Something of which had to put on hold when Zira and her pride decided to finish things once and for all. At Simba's call to war, Tiifu joined the rest of the Pridelanders, engaging the Outlanders in yet another final showdown to what may be the death of many. But, Kiara's and Kovu's timely arrival put the battle on hold, Tiifu silently smiling to herself in relief to see her friend and surprised to see Kovu with her. Her perspective soon changed regarding the Outlander pride as Kiara pointed out how very little differences there were between the two prides, merely a reflection of the other causing the tense, skeptical Tiifu for the first time see the Outlanders in a new light. Her friend was right, they were just like them in one way or another. After the Outlanders officially joined the Pridelands and Zira was unintentionally killed during a final attempt against Simba, things began to return to normal.
Tiifu's time was spent helping to heal those wounded during the battle, as well as gradually catching up with Kiara and getting to know her chosen mate more, finding Kovu to actually be quite pleasant albeit sometimes annoying company. In the later months to come, Tiifu saw the return of Kion and the rest of the Lion Guard after the return of Scar brought more trouble to the Pridelands, a threat that was eventually extinguished. Soon enough, Tiifu was one of the many to attend the wedding and coronation of Rani of the Night Pride and Kion, and soon returned to her normal duties hoping for more peaceful times.
ABOUT YOUOOC Alias:
Tundra
Age:
28
Preferred Pronouns:
She/her
Timezone:
Central US